Which camera is the best for video recording? How does the video camera work? Which film camera should I buy? If you are also asking yourself these questions, then this post is for you. I'll show you which video camera is best for filming and filmmaking and which camera I'd recommend to make sure your footage has great video quality. Then we'll get started right away!
The Best Camera for Video Recording
The best camera for video & filmmaking at the moment is the Sony Cyber-Shot DSC-RX100 VII, as it is affordable in terms of budget, delivers very good video quality, shoots 4K videos, has excellent autofocus, is handy and compact, which also makes the accessories for it inexpensive.
---
Filming in low-light conditions with the Sony Cyber-Shot DSC-RX100 VII.
---
Why is a Compact Camera recommended for recording a Video?
First, I want to tell you that please don't let the name "compact camera" get to you. Just because a camera is small and compact, it doesn't mean that the video quality is poor. The size of the film camera has long since had nothing to say about the video quality. Just look at the GoPro, which has been used to shoot a number of Hollywood movies. Even smartphones are capable of shooting professional cinema quality video these days. Please check out my post on the best smartphones for video here.
How does the Video Camera work?
Modern cameras for video recording and filmmaking use digital video. Instead of actually capturing individual images, a light-sensitive microchip (CCD – Charge Coupled Device) ensures that the information entering the lens is worth converting into a digital format. In other words, the individual frames are not stored as a photo, but as a long sequence of digital "numbers" or data.
What should I look for when buying a Filmmaking Video Camera?
The criteria for a good video camera can vary from person to person and project to project. So you have to ask yourself what you want to use the camera for? A video blogger has different goals than someone who wants to shoot music videos. Therefore, before you buy the camera, you should ask yourself when and how often you will use it. If you are going to be on the road a lot or plan to start a video blog, a small camera makes more sense. However, if you plan to shoot smaller video projects or short films, a DSLR camera might be a solution for you.
If you're wondering how to make or film a good video, I've written a post here with my top 10 tips that you should definitely read.
The Best Video Camera for a Beginner
In my opinion, a beginner who wants to learn filmmaking should not concern himself too much with the details of a camera. Of course it is important to know the basic rules and terms, but you don't have to implement them from the beginning. It is much more important that a young videographer gets "the eye" for filming and should concentrate on shooting techniques. By that I mean focus on what content you can capture with the camera, what angles to film from, and how to hold the camera steady. How exactly the ISO works, how to use manual focus, or how to best tune the camera's color settings is something you will learn with time and lots of practice. Therefore, the film camera for a beginner should be easy to use, offer a good autofocus and any equipment and camera parts should not cost much. Therefore, for a beginner, I recommend the Sony Alpha 6400 with the standard lens kit, which you can buy here on Amazon. This camera is a real powerhouse for this price and offers stunning video quality. Also check out the video below so you can see for yourself the high quality footage the camera produces.
---
---
I've written a detailed guide for beginners who are new to filmmaking, which you can find here. You should definitely read it as a beginner.
---
The Best Video Camera for YouTube and Video Bloggers
As a former Youtuber, I can say that the size of the camera is very important here, especially if you are often on the road and shoot the videos outdoors. Also, you don't want to carry a heavy or big camera with you. Also consider that you will buy additional filming equipment like gimbals or travel tripods. Therefore I definitely recommend videobloggers to buy a compact camera. If you have enough budget, I would recommend the Sony Cyber-Shot DSC-RX100 VII. For those who have less money available, I recommend the Panasonic TZ202DEGS. Again, I've linked videos of these two cameras below so you can evaluate the video quality yourself.
The Best Video Camera for Hobby Filmmakers
If you are planning to shoot short films or smaller video projects, then you need a camera where you can change the film properties. By this I mean that the lenses should be changeable and that there should be some freedom in the settings of the camera. Therefore a compact camera is less recommendable. I would go for a DSLR camera and recommend 2 models that are currently available. The Sony Alpha 6400 camera, which I mentioned earlier, is definitely a good choice. Price-performance ratio is simply top. The second camera, which I would recommend to hobby filmmakers, is the Sony a7 III. The investment in this camera is higher, but with this camera you have a full-frame camera of the highest class, which leaves nothing to be desired. You can buy the camera here at Amazon. Both cameras have really strong performance packages. You just have to decide whether you want to invest fully from the start or not.
---
A short movie shot with the Sony a7 III.
---
Which Video Camera for Professional Filmmaking?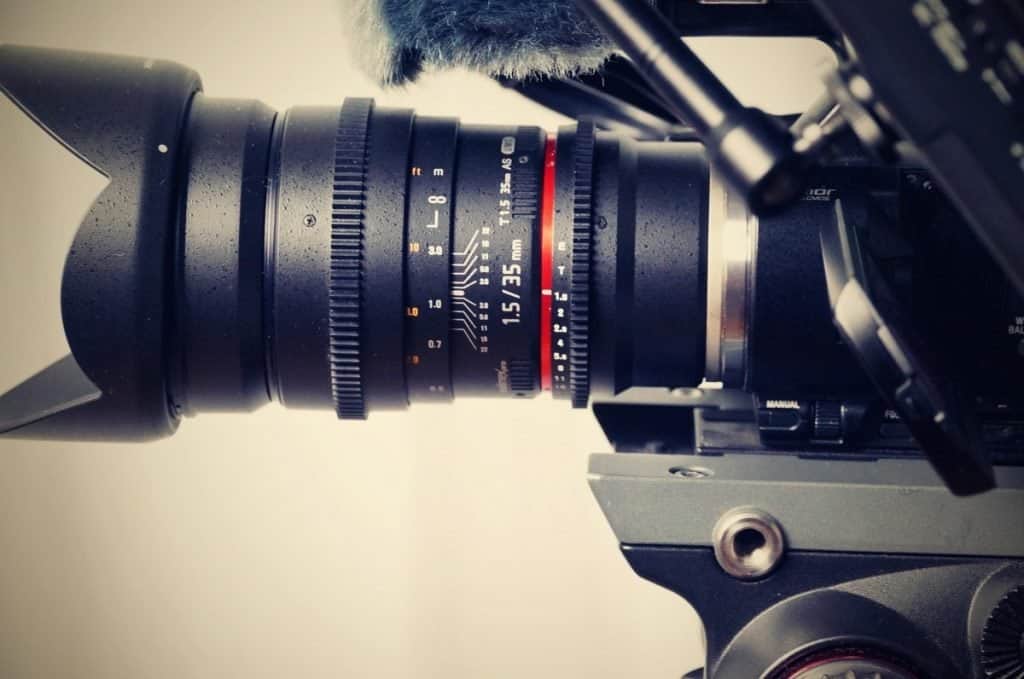 Camera technology has developed a lot in recent years. While in the past you had to spend a lot of money for professional cinema cameras, today you can shoot professional movies in cinema quality with a high-end DSLR camera with the right lenses and ND filters. I will spare you the cinema camera brands like RED or ARRI, because the total costs for these cameras are easily in the 6-digit range and for many are out of reach. Therefore, the cinema cameras or cine cameras are not mentioned in this article. Professional filming is very much possible with modern, more affordable compact and DSLR cameras!
The Best Camera for Video under 1000 USD
The best camera for filming for under 1000 USD at the moment is definitely the Sony Alpha 6400 camera. You can get it here on Amazon with the standard lens kit for under 1000 USD.
Which Camera should I buy now for Video and Filmmaking?
If you've read the post so far, you know that I recommend three different cameras, a compact camera and 2 DSLR cameras. These three cameras really cover all needs from influencer, to hobbyist and professional filmmaker. Which camera is the best for you, you have to decide for yourself. I have again created an overview table here, so you can see which camera can be used for what purposes.
Conclusion and final words
Buying a new camera is always a big back and forth. However, you can't go wrong with the three models I mentioned in the text. I use two of the three cameras mentioned regularly (in the case of the Sony RX100, I even have the previous model) and I am top satisfied. I use the cameras for my hobby projects as well as for professional shoots. So I can say from personal experience that these cameras are worth every penny and will not disappoint you.
I hope I could help you with this post and make your decision for your new camera easier. If you want to read more articles and reviews about filming, filmmaking and video editing, visit our website Filme-Lernen.com.